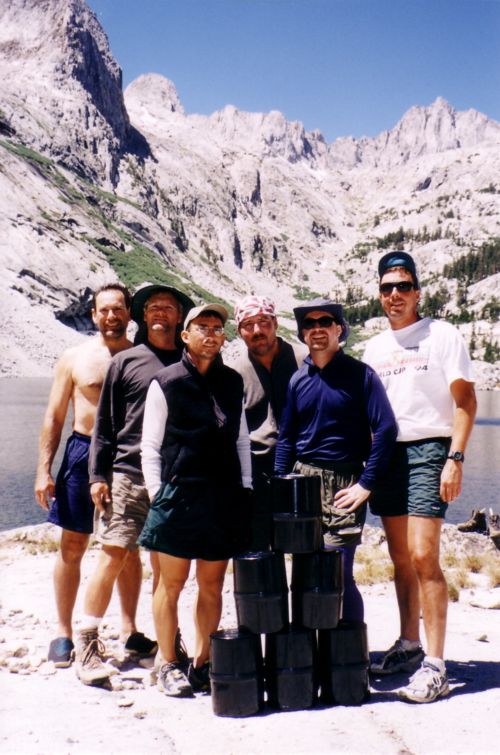 Joe (3rd from right) and the damn bear containers. We have only used these on one trip. In the many many years on this event there has never been any problem other than Marmots. Joe Really hated hauling his container. The extra weight was bad, but he did like the way it protected the crackers we use for the appetizers! Left to right - Malcolm, Todd, Mike, Joe, Brad, Eric.
The Cat Food Caper
Every year we would start the evening with appetizers. Eric always LOVED everything. Joe did create some really tasty stuff. But sometimes the ingredients were kind of gross and slimy. Every now and then there would be something that most of the group could not stomach.... except guess who... Eric. He would always act like it was the best thing he had ever eaten.
So one year someone talked Joe into bringing along a can of cat food. The sole purpose, to get a picture of Eric eating it on a cracker with a dash of basil and maybe some Tabasco. Every day we were pushing Joe to make Fancy Feast on a Ritz. Finally, on the last day, he was going to do it. He had everything ready. Eric had been acting his typical self so there was much anticipation that he was going to take a bite of Tuna Pate that Morris would give up his Nine Lives to get.
There we were, it was time, the camera was ready, Eric was hungry. Did I mention that Eric was Joe's best friend? Well he was because Joe could not bear to do that to his friend. Once it became obvious that Joe was breaking down, we tried to get him away from the scene. This had to be done.
But to our dismay, Joe won out. Friendship was stronger than Tuna in this instance.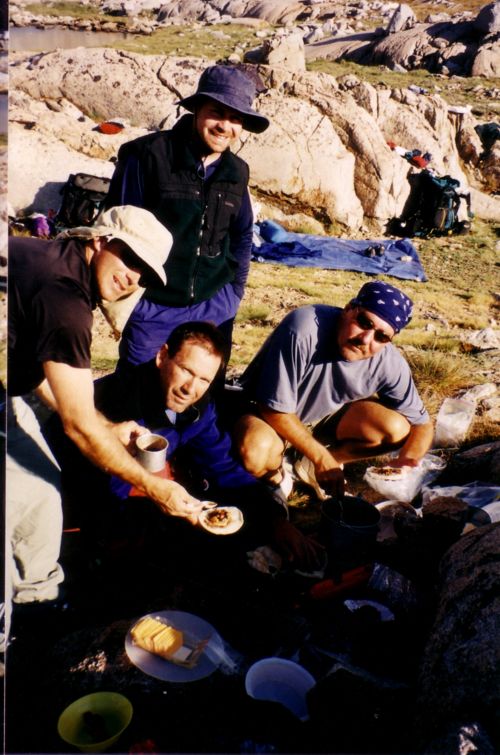 Making tacos. One of the most outstanding treats that I ever had. Joe was the master!
Left to right, Brian, Malcolm, Brad (standing) and Joe.